BREEDS OF CHICKEN EGGS I SELL
Join the Backyard Poultry Revolution!
I ship fertile chicken hatching eggs.
Dominique Chickens- America's Oldest Breed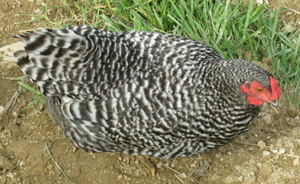 Dominique or Pilgrim Fowl were popular in Colonial times. They almost became extinct in the 1970s and are still considered an endangered species. They are a dual-purpose bird, good for eggs or meat.

The Dominique is a medium-sized black and white barred bird. The tightly arranged feathers and low rose comb make this breed more resistant to frostbite than most other poultry. Dominiques also adapt well to hot and humid climates. They do well on pasture or in confinement, and are calm and easy to work with.

Dominique's hatch well, feather early, and mature young. Cocks weigh about 7 pounds; cockerels (young cocks) weigh 6 pounds; hens weigh around 5 pounds; and pullets (young hens) weigh 4 pounds.

The hens are good mothers, good layers of light to dark brown eggs, and are somewhat broody. Dominiques are good meat birds. They are considered rare by the American Livestock Breeds Conservancy.

Order Dominique Hatching Eggs More about Dominique Chickens


---
Bantam Dominique Chickens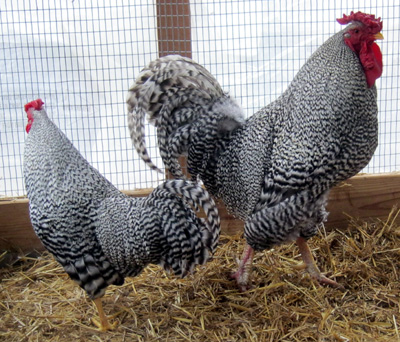 Bantam Dominiques are a small version (miniature) of the standard-size Dominique chicken.

Bantam Dominique hens weigh 24 ounces (1.5 pounds). Standard Dominique hens weigh 5 to 6.5 pounds.

Bantam Dominique roosters weigh 28 ounces (1.75 pounds). Standard Dominique roosters weigh 7 to 8 pounds.

Almost everything true about the standard-size Dominiques is true about Bantam Dominiques. One important difference is that Bantam Dominiques are broodier than the standards.

In this photo the Bantam Dominique is on the left. A standard (regular size) Dominique is on the right.

More about Dominique Bantam Chickens


---
Bantam Chickens- Various Breeds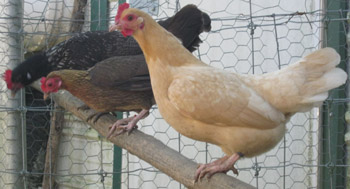 Banty chickens are much smaller than regular or standard size chickens.

Most large breeds of chicken have a Bantam counterpart or miniature. They are one-fifth to one-quarter the size of the standard breed. However, they do have all of the standard breed's characteristics such as color and comb type.

Bantam eggs are one-half to one-third the size of a regular hen egg. They are very cute.

Bantam hens are superb at hatching and brooding eggs. They are very good, protective mothers. The roosters are usually more aggressive than standard size roosters. And it is not uncommon for a Bantam rooster to intimidate a large rooster.

More about Bantam Chickens


---

"I had White Leghorn chickens that were pulling feathers since I bought them and they just kept tearing out the feathers regardless of what I tried so I had to get rid of them. They came from Tractor Supply and according to the workers there it is a problem that a lot of people had with their birds due to overcrowding when they were peeps and they do not grow out of it. I am just so done with Tractor Supply. I bought blue cote, sulmet, feather fixer, extra food blocks, etc. because I was told they might be bored.

Buying eggs from Nantahala Farm is the way to go. My chicks will never be overcrowded."
Tom, Lehighton, Pennsylvania


---
Easter Egger Bantam Chickens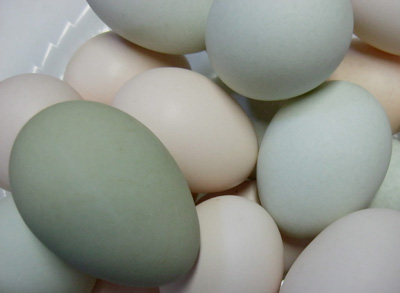 Easter Egg chickens lay colored eggs: either blue or green. Kids love these eggs.

Bantam Easter Egger hens are very broody. Hens do an excellent job of hatching eggs and taking care of their chicks. Every chick looks different so it is easy to tell them apart.

Adult hens weigh 26 ounces (1.625 pounds). Adult roosters weigh 30 ounces (1.875 pounds).

More about Easter Egger Bantam Chickens


---


Two boxes of hatching eggs ready for shipment through the Post Office.

"I am veterinary practice manager / technician and my specialty is birds. Chickens are sort of my obsession but I also have parrots." -Lisa, Warwick, Rhode Island




Dominique chicken hatching eggs sent to Anthony in Gadsden, Tennessee. Next to the eggs is his incubator.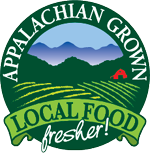 Nantahala Farm in the Mountains of Western NC
Macon County (close to Cherokee, Graham and Swain Counties)
Topton, North Carolina 28781
No pickup at farm.
Stay at my
Vacation Rental
on the farm.
828-321-9036 every day 10 am to 5 pm eastern time.
ncfarmgarden@gmail.com
I ship to the United States only.

Please support small farms and sustainable living. I am happy to answer your questions about farming and gardening. Let me know any comments or suggestions you have about my site, farm or products. I can add your testimonials and photos so others know your experiences and ideas.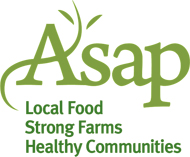 RENT MY VACATION HOME

Rental House on Farm
ANIMALS AND POULTRY EGGS FOR SALE

Ancona Ducks
|
Dominique Standard Chickens
Silkie Bantam Eggs
|
Shipping Hatching Eggs
BUY BEANS, PEAS & CORN FOR PLANTING

October Beans
|
Rattlesnake Beans
|
Greasy Beans
Black Turtle Beans- Bush
|
Mammoth Melting Peas
Cherokee Trail of Tears Black Beans- Pole
Cherokee White Flour Corn
LEAFY GREENS: SEEDS FOR PLANTING

Perennial Sea Kale Seeds
|
Mizuna Seeds (Japanese Greens)
BUY SEEDS, ROOTS, BULBS AND PLANTS

Comfrey Plants and Seeds
|
Perennial Bronze Fennel Seed
Stinging Nettle Seed
|
White Yarrow Seeds
Perennial Plants
PURCHASE HERBS, FERTILIZERS, FEED SUPPLEMENTS

Frontier Comfrey Root Dried
Azomite Trace Minerals Powder
|
Rock Dusts for Soil Health
Organic Thorvin Kelp from Iceland
FARM BOOKS, VIDEOS & ACCESSORIES

Farm & Garden Calendar
|
Future of Food DVD
Better Hatching Book
|
Sexing All Fowl Book
Winter Chickens DVD
|
Incubation Thermometer
Coal Sifter Woodstove Tool
HEALTH SUPPLIES

Comfrey Oil
FARM SITE RESOURCES

Home
|
Pay with Paypal
Sustainable Farming Inspiration
|
Privacy & Refund Policies
Create Your Own Website
|
Site Map

Follow My Farm Life on Facebook:
"Western North Carolina Farm & Garden Calendar"
All rights reserved. ©2008-2018